Professor Hideyuki Kagawa (Satoshi Jinbo)
Professor Kagawa was another card-carrying genius. In this case, literally. He wandered into Room 401 one day and happened to see Shiro Kanzaki's notebook lying on the floor. He scooped it up, opened it and gave every intriguing page a once-over. And came Kanzaki to take it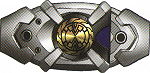 back and walk off without a word. However, Professor Kagawa has a photographic memory. Now, precisely what happened in what order is a little shaky. But this is what we do know: He started to duplicate Kanzaki's work. He formed a relationship with Satoru Tojo who is Tiger, and Nakamura. He made fakes of Tiger's card deck for he and Nakamura to carry, just to throw off any other Rider who might come along. And he designed his own deck, cards, and his own monster. Psycho Rogue does not have the appearance of the other Mirror World monsters we've seen. It reminds me more of Jason, from Friday the 13th (Indications are this is purely intentional by the writers). It seems it is a cyborg. I used to wonder if Kagawa had Tiger capture a monster, bring it to him and then he changed it. However, now I know it's a cricket-monster!

The notes Kagawa read said a few things in English and I made out what I could as best I could. Here are some excerpts from the English in Shiro Kanzaki's notebook: "The toxic matter regarding to special relativity and electromagnetism is almost able to included them systematically, although it is imperfect yet." There is a graph, a sketch of what may be a belt, and a Ride Shooter sketched on the opposite page. Another page: "include all contents of" "express Lorentz guage" "Lorentz transformation electromagnetic field" "varients we can lead Lorentz"

Kagawa made two suits, the Prototype-00 and the Prototype. There was virtually no difference externally between the suits, and both might have used the same monster. The Zero had silver pipes on its shoulders, the other black. The suit visor was the Slash Visor. On his version of the Advent cards it said:

ALTERNATIVE
ADVENT CARD
ALCHEMY SYSTEM

He seemed to me to be to be a power-mad kind of guy. He was capable of acting innocent and unassuming. He tried to trick Reiko and only ended up increasing her suspicions when he would not let her touch a curved mirror in room 401. He jollied Shinji until our boy happened to notice the notes his assistant Tojou was carrying on the Mirror World. He out and out stated to Shinji that they can close the Mirror World. He was challenging Kanzaki, and that led to disaster. He was a married man, with a young son named Yuuta. Though he deeply loved both his wife and son, he did not let Kanzaki threatening their lives deter him from his course to close the Mirror World. A guy who stole another scientist's work just seemed suspicious to me, now I must admit he really meant what he said. Unfortunately, he died for it at the hands of a person he though he could trust.
Hajime Nakamura, we met a few times. A shorter haircut lent a certain harshness to his features. He was a member of Projessor Ejima's batch of people. He had a strong aversion to any mention of Kanzaki, even to going out of his way to avoid Yui though he did eventually bend to her begging and give her the information she requested, along with a sharp demand that she never contact him again. He kept telling people he wasn't there the day of the experiment that put Eri in a coma. The day Kanzaki vanished off the face of the Earth. It turns out he, and possibly Kagawa, was the one who was trying to murder Yui. But he didn't have the cold-heart he needed for it. He is dead now, killed by Tiger. They both are.
The Alternative Cards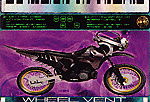 Those little green letters are all in English! What they say... well, it's all written very small and I'll surely mistake 0 or O for D and such, but I'll try. The Advent (PSYCO-ROGUE) says:

CARD TYPE: ADVENT
ATTACK POINT: 6500
///
ALCHEMIC SYSTEM ID:
SP67V・01532・TR3OAV
MONSTER CATEGORICAL
TYPE: CRICKET
SERVANT SYSTEM:ON
///
ENERGY LEVEL: 8
The Sword Vent says:

CARD TYPE: SWORD
ATTACK POINT: 2000
///
ALCHEMIC SYSTEM ID:
CM0SR・31927・SR21TT
ARMAMENT MODULATOR
SYSTEM: NORMAL
///
POWER LEVEL: 6
SKILL MODIFIER: 2
Accel Vent says:
CARD TYPE: ACCELE
ATTACK POINT: 2500
///
ALCHEMIC SYSTEM ID:
PF85E・37561・DR74IV
ACCELERATION
CONTROLLER: AUTO
POWER LIMIT: MAX
///
POWER LEVEL: 5
The Wheel Vent says:

CARD TYPE: WHEEL
ATTACK POINT: 4500
///
ALCHEMIC SYSTEM ID:
TR91F・21257・ANS26K
AUTO TRANSFORM:ON
ENERGY LEVEL:2
///
SERVANT SYSTEM:ON
POWER LEVEL: 7
The Final Vent says:

CARD TYPE: FINAL
ATTACK POINT: 8000
///
ALCHEMIC SYSTEM ID:
FN1GW・40802・QE1525
EFFECTIVE PROBABILITY
8000/6500・・・COM/NUL
PURSUIT SYSTEM: ON
///
POWER LEVEL: 7


Alternative Zero, Alternative